Cacao4U 3in1 Drinking Chocolate is the product that meets the needs of customers quickly and conveniently. Just need to put one bag of Drinking Chocolate (22g) in a glass, and then add 75ml of boiling water from 80 degrees to 90 degrees. Stir it well and enjoy. If you like to drink it cold, mix 2 bags for a rich flavor.
HOW TO MAKE "DRINKING CHOCOLATE"
- Hot Drink: Put 1 Drinking Chocolate bag of 22g in a glass; add 75ml of boiling water of 80 degrees - 90 degrees. Stir well, add some chopped chocolate or marshmallow candy and then Enjoy.
- Cold Drink: Put 2 Drinking Chocolate bags of 22g, put them into a glass, and then add 75ml of boiling water from 80 degrees to 90 degrees. Stir well, and add some ice cubes then enjoy.
INSTRUCTION FOR USE OF COCOA
Cocoa has many good health effects that amazed people such as anti-depressant, weight loss, good sleep ... Nutrition experts recommend drinking 1 cup of hot cocoa every morning to have 1 efficient working day and to maintain good health.
1. INCREASING METABOLISM
Pure unsweetened cocoa increases metabolism and allows the body to burn more calories per day. Therefore, it helps you to lose weight extremely effectively.
Dr Shilpa Mittal, Indian nutritionist, said: "Cocoa is an excellent ingredient to boost metabolism. So using dark chocolate as a dessert is an ideal idea. In particular, during the winter, when the body's metabolic activity becomes weak, the use of chocolate is highly recommended.
Many studies suggest that cocoa is not only anti-depressant, but also helps to weight loss.
2. SUPPRESSING APPETITE – ASSISTING WEIGHT LOSS
The main ingredient in cocoa is Theobromine, a substance that makes the body feel full and suppresses cravings.
Doctor Mittal once stressed "The caffeine contained in pure cocoa is also effective in reducing appetite. So eating whole cocoa or dark chocolate means you're fighting your cravings"
3. STABILIZATION OF THE BLOOD SUGAR
Cocoa is slowly consumed into the bloodstream and the result of this slow consumption is the production of insulin, a substance that is able to stabilize blood sugar. This shows that pure unsweetened cocoa is very good for diabetes patients.
4. ANTI-OXIDATION
Pure unsweetened cocoa contains more antioxidants than red wine or green tea. Antioxidants help improve our digestive system. When the foods we eat do not digest well, our body tends to accumulate toxins that decrease our metabolism. In that case, we should consider consuming dark chocolate.
5. SUPPLYING NUTRITION TO THE BODY
Cocoa is full of basic nutrients such as protein, carbohydrates and lipids to help provide energy. Fat in cocoa is mainly triglycerides and unsaturated fatty acids. Good fat content in cocoa is equivalent to content of monounsaturated fat in Olive oil.
Additionally, cocoa is known for its high content of soluble fiber. Two tablespoons of cocoa powder contain up to 3.6 g of fiber. In addition to help create a feeling of fullness and reduce appetite, fiber also helps fight constipation extremely well. Not only that, drinking Cacao also means that you are consuming in a lot of essential minerals such as Manganese, Copper, Iron, Magnesium ... needed for metabolism and body building.
6. BEAUTIFUL SKIN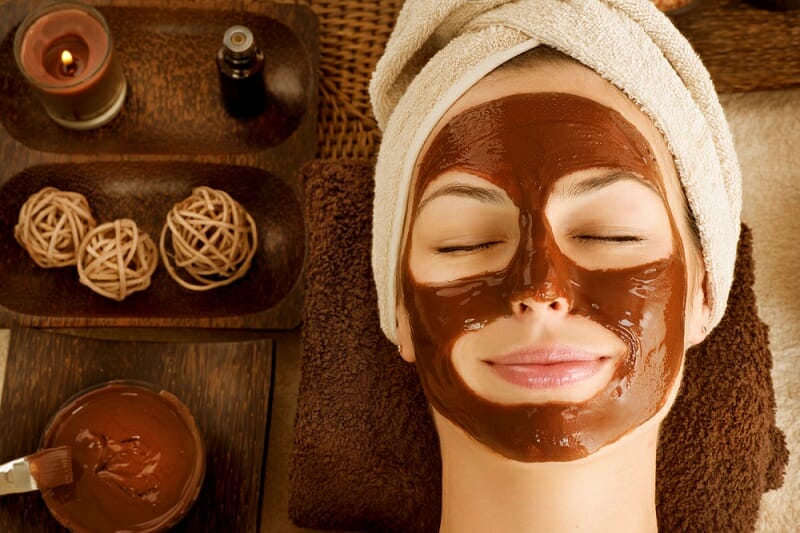 Biologically active substances in cocoa are very good for the skin. Flavonoids can protect the skin from sun damage. In addition, cocoa also helps improve blood circulation under the skin, making the skin rosier; Increasing skin elasticity and moisture, helping smooth wrinkles, giving you a younger, more beautiful skin. Apply a pure cocoa mask about 1-2 times a week, you will feel your skin improved significantly after only a short time. You can also use cocoa as a substance to help exfoliate and moisturize the skin.
7. REACH EXTREME RELAXATION
The pressure of work, family, and society always makes many of us tired. Enduring this feeling for a long time leads us to a consequence that is stress.
Are you in need of relaxing?
Then, nothing is better than sipping a cup of hot cocoa, listening to music, forgetting all your troubles, and falling asleep. You will feel more energetic and braver to face all difficulties in the most gently way.
How can Cocoa do that ???
Because cocoa helps promote Serotonin levels in the brain which is known as a "happy brain", this Serotonin helps to reverse stress.
In addition, cocoa is also used to make ingredients for cakes, candies, chocolate, chocolate flavored jellies...
Let's take reference of baking recipes and uses on the web blog.
Currently Cafecacao4u is available on the e-commerce pages, you can order at:
Lazada, Shopee, Sendo, Facebook. Encourage ordering on Lazada or Shopee to get free shipping fee for the whole family.
Product of:
AUTHENTIQUE VIET NAM COMPANY LIMITED
• Sunrise City View, 33 Nguyen Huu Tho, Tan Hung ward, District 7, Ho Chi Minh City, Vietnam
• info@cafecacao4u.com
• 0888 060 839
• cafecacao4u.com/authentique.com.vn
Keywords: pure roasted and ground coffee, roasted whole grain coffee, robusta whole grain coffee, arabica bean coffee, pure cocoa powder, pure cocoa in HCMC, selling pure cocoa in HCMC.